USC BASKETBALL NEWS
Trojans go wild on social media as USC basketball advances to Elite Eight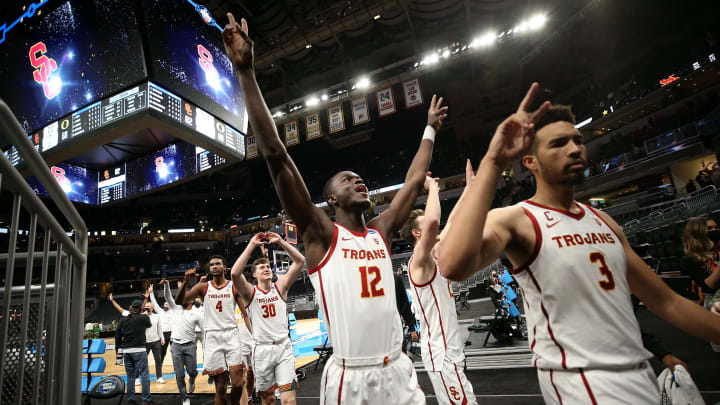 USC basketball celebrations. / Jamie Squire/Getty Images
Trojan football, basketball and even baseball alumni on Twitter went crazy as USC basketball demolished Oregon for a spot in the Elite Eight.
Is that Conquest! you hear blaring out across Los Angeles right now? It might be.
At the very least, Trojan Twitter is having a ball after USC basketball blew through Oregon on their way to the Elite Eight.
The Trojans led by 15 at halftime and built their lead to as many as 21 in the second half. It was as good of a performance as any USC fans could have asked for, even if Oregon tried to make it uncomfortable at the end.
All the while, former USC players from across the sports had their say on Twitter.
Rodney Peete was a particularly great representative of the emotions running through USC fans heads during the Trojans big first half run.
The excitement during the game was nothing compared to the pure jubilation that followed once USC locked in the 82-68 victory.
It's surreal to think about how close USC is to contending for it all.
One USC basketball alum is feeling bold.
Don't forget, Onyeka Okongwu might have led USC on a fun NCAA Tournament run last year as well. Unfortunately, March Madness was canceled because of the COVID-19 pandemic. The fact that the Trojans are here now with Evan Mobley leading the way is an ideal way to make up for that.
Next up, USC faces their toughest test in two decades: An Elite Eight matchup with No. 1 seed Gonzaga.
CHECK OUT: USC dubbed Gonzaga's biggest threat
The last time the Trojans were in the Elite Eight in 2001, they were knocked out by No. 1 seed Duke. This squad will look to avoid the same fate on Tuesday.
Can they get it done? That's a question for the next couple of days. For now, it's best to follow the Trojans' lead and celebrate the hell out of this achievement.