Sporting News predicts USC football to get chance to redeem itself in winnable bowl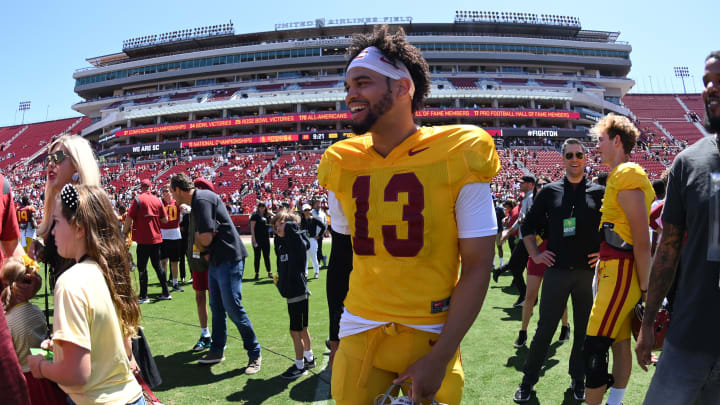 Caleb Williams, USC Football, USC Trojans / Jayne Kamin-Oncea/GettyImages
The last time USC football was in the Cotton Bowl, they didn't play well. They lost by 17 points to the Ohio State Buckeyes. It ended SC's winning streak against OSU at seven. There was not a lot of motivation to play that game for the Trojans, as they won 11 games and their conference (with no losses against teams outside the top 16), and were not selected to the College Football Playoff.
This year, Sporting News' Bill Bender doesn't have USC making the Playoff again, and going to the Cotton Bowl again. Hopefully, SC will be playing with some motivation this time if his prediction comes true. And the team he predicts them to play is beatable: The Houston Cougars. The Cougars will likely be solid this year, but they're not expected to be as good as the Trojans.
For instance, Houston was ranked 10 spots lower than USC on the preseason Coaches Poll. They have a lot of potential, but USC does as well. SC scored two five-star transfers this offseason and five four-star transfers. They already were returning a monster on the D-Line in Tuli Tuipulotu, and four starters from the No. 1-rated line in college football (PFF). Their roster's loaded.
USC football should be able to handle Houston in the Cotton Bowl.
And getting Cotton Bowl redemption would be massive for USC football. Obviously, they probably still have a bad taste in their mouth over how their last Cotton Bowl went. In fact, USC's second-best player--Andrew Vorhees--probably wants to end his career with a major Cotton Bowl win considering he began his USC bowl career with a major Cotton Bowl loss.
SC fans will be rooting for his teammates to not let him down. Everyone already knows that he will ball. USC playing well on that stage would be massive for the program, in order to repair their image that has been hurt in the last few years as a collective.
They don't have a ton of Cotton Bowl experience--just two games. One of those games, though, was a 1994-1995 DRUBBING of Texas Tech (55-14). Lincoln Riley certainly has great history in the Cotton Bowl, as he won it 55-20 in the 2020-2021 season in his lone opportunity to head coach in it.
Many expect Riley to expedite USC's process in returning to glory. A GREAT first step would be for him to replicate that Cotton Bowl success into the prestigious bowl game in this upcoming season.