USC Football History
USC football throwback: The controversy, injury and tragedy of Mike McKeever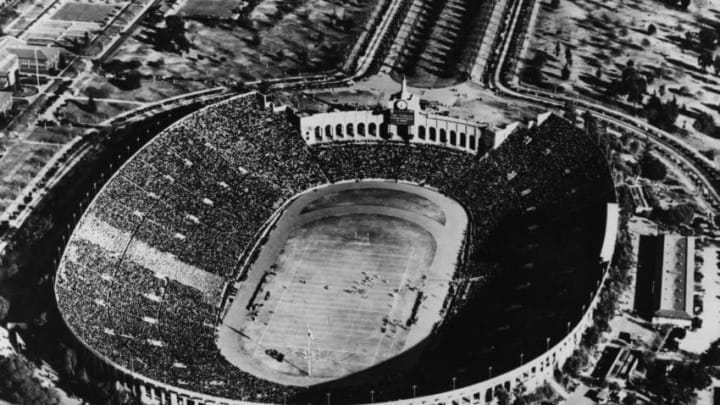 Fox Photos/Getty Images /
Mike McKeever and his twin brother Marlin were two of the sensational athletes in USC football lore. Mike was also one of the most controversial and tragic of Trojan figures.
USC football's All-American twins Marlin and Mike McKeever were born in 1940, on New Year's Day, in Wyoming, in the middle of a blizzard.
Marlin came first. Mike followed 10 minutes later.
CHECK OUT: Breakout candidates for every USC position in 2019
Their parents were expecting a girl. They'd even picked out a name: Mary Ann.
"Imagine getting all set for a baby girl named Mary Ann and suddenly these two show up," Groucho Marx quipped on his "You Bet Your Life" television show in 1961 when the twins made an appearance.
The unexpected boys would go on to become two of Troy's most outstanding players. All-Americans and a College Football Hall of Famer.
But for Mike, specifically, there was also controversy, injury and tragedy.
"The Twin Terrors of Troy"
Each standing 6-foot-1, 230 pounds, Marlin and Mike McKeever were a college football sensation even before they earned their first letter for USC's varsity team in 1958.
RELATED: Who was the best to ever wear No. 68 at USC?
"Two of the finest athletes I have ever seen are the highly-publicized McKeever twins, Mike and Marlin," then-freshman coach Marv Goux proclaimed.
The quality of their play was recognized immediately. Marlin, an end, was voted All-West Coast by the Associated Press after his sophomore season. Mike, a guard on both sides of the ball who led the Trojans in tackles, was an honorable mention.
Through their college football careers, Marlin garnered more acclaim on the field, but Mike certainly grabbed more headlines.
THROWBACK: Before Sam "Bam" Cunningham, there was C.R. Roberts
In 1959, the Trojans started the season on a tear and the McKeever twins were in the midst of it. Both were All-American candidates, but Mike's pursuit of that national honor was complicated by his aggressive style of play.
The burly guard was tossed from USC's win over Stanford, which moved them to 5-0, for arguing with a referee too ferociously over a called foul.
The next week against Cal, he was at the center of a national college football controversy.
"The McKeever Incident"
What's not in dispute is this: In the second quarter, McKeever tackled Bear running back Steve Bates late out of bounds. The 218-pound lineman's elbow met the 175-pound halfback's face, caving in his cheekbone from the eye socket to the sinus, breaking his nose and causing misalignment of his teeth.
ROUNDUP: Athlon's 130-team rankings, CFN's All-Pac-12 team
Bates landed in the hospital, in need of surgery, and McKeever was ejected from the game for a second-straight week, but not for that incident. While his tackle on Bates was not flagged for any violation, he was tossed for roughing the passer in the second half.
In the days that followed, Cal mounted a campaign against McKeever, claiming that the game film showed Mike had intentionally inflicted the harm on his opponent. Sports writers from around the country debated the aggressive nature of his play. Some called him dirty, some called it an accident, some called it "just football."
The Tampa Tribune (Tampa, Florida) · 5 Nov 1959, Thu · Page 49 /
Braven Dyer of the Los Angeles Times, admittedly a pro-USC source, was present on the day and couldn't tell in real time if McKeever could have avoided the contact. He explained that McKeever "seldom does anything except at full speed" and concluded on review of the TV broadcast that, "I saw nothing dirty by Mike."
Cal obviously disagreed and threatened to break off relations with the Trojans if they didn't suspend McKeever. Cal's Associated Students Executive Committee drafted a resolution asking for the Bears to refuse to play against USC the next year if McKeever was on the team.
Meanwhile, sportswriter Jim McKone declared in the San Bernardino County Sun that McKeever had blown his shot at being an All-American first team selection and would end up an honorable mention on many ballots as punishment.
MORE: USC's 15 best players who weren't All-Americans
USC apologized, but refused to budge on suspending McKeever and he suited up the next week. With the eyes of the nation on him against West Virginia, he not only played a completely clean game, but was lauded as the best player on the field in the Trojans' 36-0 victory.
The Coliseum crowd showed their support for McKeever by giving him an ovation at every mention by the PA announcer, and they had plenty of opportunities to do so. He had 16 tackles on the day.
As it turned out, McKeever's All-American pursuit was damaged, but not undone. Though most of the major selectors placed him on their second and third teams, the Newspaper Press Enterprise included him on their first team.
The "McKeever incident" may have had other consequences though.
Head coach Don Clark faced criticism for what was perceived as dirty play by his team in general. He felt slighted by the implication on his character, felt McKeever had done nothing wrong and apparently disagreed with USC president Norman Topping's decision to apologize to Cal.
Of greater concern, USC's mentality seemed to change in the wake of the controversy. The Trojans lost their final two games of the season to rivals UCLA and Notre Dame. Injuries played a role in that. For one, McKeever twisted his ankle against Baylor ahead of those pivotal contests and struggled to have the same impact as he had all season.
The media circus didn't help matters either.
"The Mike McKeever incident in the California game tied me and my coaching staff up for the better part of the most important two weeks of the season. We spent as much time showing pictures and defending Mike as we did coaching," Clark said in January of 1960.
THROWBACK: An ovation for the "noblest Trojan of them all"
Despite claiming a share of the AAWU title, Clark stepped down from his post as head coach.
He said it had nothing to do with everything surrounding McKeever, but it's easy to see how the situation may have influenced his decision to walk away from coaching in favor of a less-stressful life in the business world.
Offensive coordinator John McKay took over as head coach in 1960, with both McKeever twins returning for their senior seasons. And again they were prime candidates to repeat All-American acclaim.
For USC, it was to be a lackluster opening campaign under McKay, finishing with a 4-6 record. For Marlin, a second All-American nod did indeed await. For Mike, things took an unfortunate turn.
A kick in the head
After losing the first two games of the season to Oregon State and TCU, the Trojans faced No. 9 Ohio State. They lost 20-0 in Columbus.
It's around that time that McKeever developed a bout of extreme fatigue.
He played just a half of football in USC's win over Georgia at the Coliseum the following week.
The hotly-awaited rematch with Cal was up next.
MORE: USC's best performers vs. every Pac-12 school
McKeever, USC's captain, suited up and walked out to the middle of the field to meet with Cal's captain, none other than a fully-recovered Steve Bates.
But the McKeever who Bates shook hands with in 1960 was diminished from the one who had injured him so grievously in 1959. His presence on the field was ceremonial on that day. Though he was in uniform, he was not slated to play.
Some might have called it convenient timing, considering the Bears' threats from the year before, but Mike really was ill and losing weight at an alarming pace.
Doctors thought McKeever's condition was the result of a sinus infection. Between the Georgia game and the Trojans' bye week following the victory against Cal, he dropped from 230 pounds to 207.
Still, he insisted on traveling to battle Stanford once the bye week was over.
McKeever played 40 minutes, collected seven tackles and intercepted a pass in what was touted as a strong defensive performance. Somewhere along the way, he took a blow to the head.
The Trojans believed he had been kicked in the head. Stanford disputed that telling of events.
However it happened, McKeever was clearly in trouble. According to a report from the United Press International, USC teammates had to carry him to the shower after the game. His brother Marlin had to help him dress. And he was sick on the plane ride home.
The trouble wasn't a sinus infection or a concussion. It was a blood clot, two of them in fact.
Upon his return to Los Angeles, Mike underwent nearly two hours of brain surgery to remove the clots, one of which was anywhere from a month to two years old.
The San Bernardino County Sun (San Bernardino, California) · 18 Nov 1960, Fri · Page 32 /
A few days after the surgery, the lineman was up, walking and "eating like a horse," according to doctors.
Unfortunately, as good as his recovery was going, doctors had bad news for his football career. It was over.
The Trojans' season wasn't. They vowed to "play for Mike" against No. 7 Washington, but they were blasted 34-0. A loss at Baylor followed before they split the rivalry games with a win over No. 11 UCLA and a shutout loss to Notre Dame.
THROWBACK: Remembering the wackiest USC-UCLA game ever
The Rams drafted both McKeever brothers in 1961. Marlin was the fourth overall pick while Mike was picked up at No. 172 on the slim hope of his being cleared to play eventually.
Marlin went on to play 13 seasons in the NFL. He went to one Pro Bowl and was voted the Rams' MVP in 1971.
Doctors never gave Mike the go ahead for football, so he went to work in the construction industry eventually set his sights on another athletic achievement: making the U.S. Olympic team as a hammer thrower.
The tragic end
It would be better if that was the end of the story. It might have been just a disappointment, rather than a tragedy.
On December 3, 1965, five years after his final game in cardinal and gold, McKeever was driving home in blinding fog when he and another car collided. He suffered brain damage and fell into a long-term coma.
The accident was in the early morning hours on his fifth wedding anniversary. Back 1960, after he recovered from the surgery which saved his life but ended his football career, Mike joined his brother Marlin in marrying their college sweethearts in a joint ceremony.
Twelve days after the accident, his wife gave birth to their third child, a son who would sadly never get to know his father.
Twenty months after that foggy night in December, Mike McKeever died at the age of 27.
Remembering "Big Mike"
Former USC head coach Don Clark was a pallbearer at McKeever's funeral, along with six former teammates. Trojan legend Jess Hill and head coach John McKay led an honor guard.
In the obituary for McKeever, McKay called him "the best defensive lineman I've seen at USC. A tremendous football player."
His tremendous ability didn't end on the football field.
"Brawny Mike McKeever is also the brainiest on the University of Southern California football team," the Associated Press wrote in 1961, when USC's Football Alumni Club honored him with their Academic Achievement Award.
The College Football Hall of Fame inducted him into their ranks in 1987. McKeever and his brother were included in the second ever USC Athletic Hall of Fame class in 1995.
USC's annual team MVP award is still named the Mike McKeever Memorial Award.