Throwback Thursday: An ovation for USC football's "noblest Trojan of them all"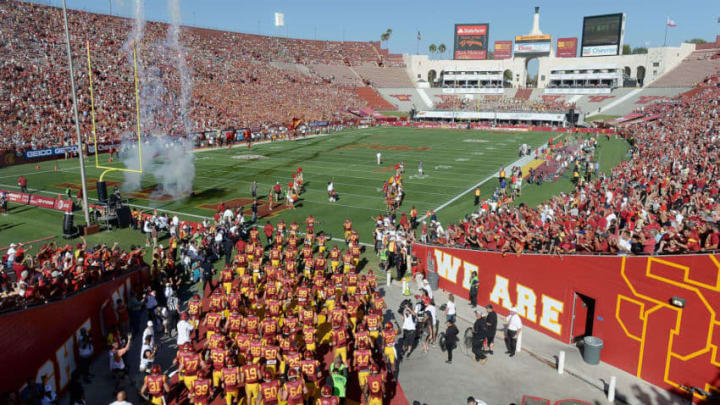 Harry How/Getty Images /
Morley Drury was the "noblest Trojan of them all" as the first true USC football superstar, setting the stage for the greats to come.
Before Sam Darnold and Matt Leinart, before Rodney Peete and Marcus Allen, before O.J. Simpson, Mike Garrett, Jon Arnett and Erny Pinckert, there was Morley Drury.
Dubbed "The noblest Trojan of them all" by a writer in the Los Angeles Examiner, Drury truly lived up to that moniker.
CHECK OUT: USC's 15 best players who were never All-Americans
In some ways, you could compare him to Carson Palmer: A gifted football player who helped launch the career of a legendary coach without enjoying the fruits of national championship glory.
Palmer launched the Pete Carroll era. For Drury, it was Howard Jones, the first of USC's national title-winning head coaches.
And Drury was arguably the first Trojan superstar.
MORE: Four Trojans who could breakout in 2019
Before he was the noblest Trojan
Like many of the athletes of the day, Drury didn't have a conventional entrance into the college scene.
Born in 1903 in Canada, he lost his father at age seven, moved to southern California and spent two years working in the Long Beach shipyard. It was there he played football for the first time. It was the coach of the shipyard's ragtag team who gave him the push to attend high school at Long Beach Poly.
That's right. USC's Long Beach Poly roots go way, way back. But it's doubtful any of the Trojans' recent additions from that football powerhouse spent their mornings working at a shipyard before heading to school in the afternoon.
THROWBACK: The wackiest ever, fumble-tastic USC game vs. UCLA
Even before he put on the cardinal and gold, Drury was doing "noblest Trojan" things. like beating UCLA.
Technically, he only played and bested the Bruins once in his USC career, but such a feat was "been there, done that" for Drury.
"You could beat them with a high school team in my day," Drury reminisced in the LA Times in 1980. "In fact, we did. We beat 'em 41-0, when I was at Long Beach Poly. We called them 'The Branch' then — California Southern Branch."
At Poly, Drury played center and achieved All-State status before he joined the Trojans in 1924.
SEE ALSO: Ranking the 10 best running backs in USC history
Earning the moniker
Elmer "Gloomy Gus" Henderson recruited Drury to play for USC instead of Cal, but after a season playing for the freshman team, where he was converted to the backfield, Drury got his first letter playing for newly-arrived head coach Howard Jones.
For two years, Drury pitched in with solid contributions alongside USC's first consensus All-American Mort Kaer.
Initially, Drury was not considered a ball carrier, more often using his 6-foot, 185-pound frame (large for the time) as a blocker. Eventually, Jones discovered the value of his power rushing as a compliment to Kaer's speedier-style. Jones even called him "the best ball carrier we have" during his sophomore campaign.
Even so, his 321 yards were modest, though nine touchdowns total and 208 passing yards certainly boosted his name recognition around campus. He only had 202 yards and three touchdowns in 1926.
Upon Kaer's graduation, Drury became the main man in the Trojan backfield. To put it simply, he was magnificent.
The Los Angeles Times (Los Angeles, California) · 30 Oct 1927, Sun · Page 17 /
Before the season he was a unanimous selection to captain the team and he certainly led them in every way.
Drury became the first ever Trojan to eclipse the 1,000-yard mark, a full 311 yards more than Kaer had achieved during his exceptional All-American campaign.
When discussing the accomplishments of old-time football figures, context is often required.
THROWBACK: The greatest USC player you've never heard of
Here's the context of Drury's 1,163-yard season: It took 38 years for another USC rusher to best his season total. That rusher was Heisman winner Mike Garrett in 1962.
Drury's contributions weren't limited to the offensive side of the ball either. He was an elite defender, swatting passes out of the air from the safety position. He also punted, passed and blocked.
With Drury at the helm, USC won a share of the Pacific Coast Conference crown for the first time under Jones. They were a last-second tie against Stanford away from a Rose Bowl berth with an 8-1-1 record. As it was, the Rose Bowl selection committee went with Pop Warner's more established squad despite two losses marring their record.
Drury, who became the first Trojan to rush for more than 200 yards in a game, was named a consensus All-American.
Unbreakable
Drury was known for his toughness and durability.
Despite playing nearly every minute of every game at multiple positions, he hardly missed a snap.
"After breaking my jaw as a freshman, I was never hurt again," Drury told the LA Times in 1980.
That's not to say he didn't get injured. He was just JuJu Smith-Schuster levels of stubborn about playing.
RELATED: JuJu Smith-Schuster's nine best moments as a Trojan
Afterall, he played through that broken jaw in 1924.
In 1927 ahead of USC's game against Washington State, Drury collided with a lineman during practice, busting open his eyelid.
Maybe it was hyperbolic of Braven Dyer of the LA Times to write how Drury"came within an eyelash of losing his left optic," but the black eye was severe enough that his ability to participate in the weekend's game was in question. He needed four stitches and the Times made a dark joke about "Dick Deadeye" Drury with an eyepatch drawn onto his picture in the paper.
You can probably already guess how it went. Drury went out and racked up 141 yards and a touchdown before his wound was reopened and he was forced out of the game in the third quarter of a 27-0 romp.
The Los Angeles Times (Los Angeles, California) · 4 Dec 1927, Sun · Page 17 /
A fitting climax
The final game of Drury's career came against Washington on December 3, 1927.
This was the era of USC card tricks and on the day Trojan fans created images to honor Drury and fellow All-American Jesse Hibbs. The mosaic spelled out "ALL," then transformed to an American flag, then then "DRURY" and "HIBBS."
The card trick would be the least of the honors bestowed to the graduating Drury.
SEE ALSO: Ranking the 10 best USC quarterbacks ever
Going out with a bang by amassing 180 yards and three touchdowns, including a zig-zagging 77-yard score, Drury was removed from the game in the third quarter with his team leading comfortably.
Knowing the enormity of the moment, Jones directed his quarterback to the locker room, but told him to walk across the field to get there.
"Well, the whole crowd stood up as I started my walk. Then, the opposing team stood up. The ovation lasted until I reached the tunnel," Drury recalled, as quoted by the LA Times.
"I reached the track and looked up at all those people. I tried to wave, but my hand jerked, so it wasn't much of a wave. My knees got weak even if I did feel as fresh as a horse. And I bawled like a baby."
The ovation was said to last 10 minutes, with the entirety of 60,000 at the Coliseum on their feet.
"Capt. Morley Drury of the Trojans was accorded the greatest ovation ever tendered a local football player," Dyer wrote in the LA Times the next day. "For Drury, with his devastating dashes had played the greatest offensive game ever seen in the Coliseum and it was a fitting climax to the Long Beach boy's marvelous intercollegiate career."
The epilogue
Drury's college career was spectacular and his life stayed plenty interesting.
After lettering in football, basketball, water polo and ice hockey (true to his Canadian roots) at USC, he was offered the chance to play football in the pros but he turned it down. He went on to work for the brokerage firm E.F. Hutton. He was there for the great market crash of 1929.
More from Reign of Troy
He did some work for a newspaper, maintained a weekly football radio broadcast and got into the building materials business and advertising.
All the while, he stayed true to his Trojan roots. He was the team manager for USC baseball team as they traveled to Japan in 1928 and stayed connected to the football team long after.
For 50 years he was a constant attendee of USC football games at the Coliseum. In 1930 when he was struck by a bout of infantile paralysis in his hands, he defied doctor's orders and attended the Trojans' battle with Oregon State.
He joined the Navy during World War II and sold war bonds out of a 25-foot replica of a battle cruiser named for the city of Los Angeles.
In 1954, he became the first Trojan to be elected to the College Football Hall of Fame.
His Coliseum attendance streak was broken by health problems in the end. Bad knees limited his mobility, though he blamed 10 years of playing handball after he finished college for that particular ailment.
In 1988, despite being confined to a wheelchair, he made a return to the Coliseum floor to mark the 100th year of Trojan football.
The timing of that centennial was fitting. The following January, Drury suffered a stroke and "The noblest Trojan of them all" passed away just a few short months after receiving a final "rousing ovation" on his home field.