You need the USC Trojans Nike Air Zoom Pegasus 38 sneakers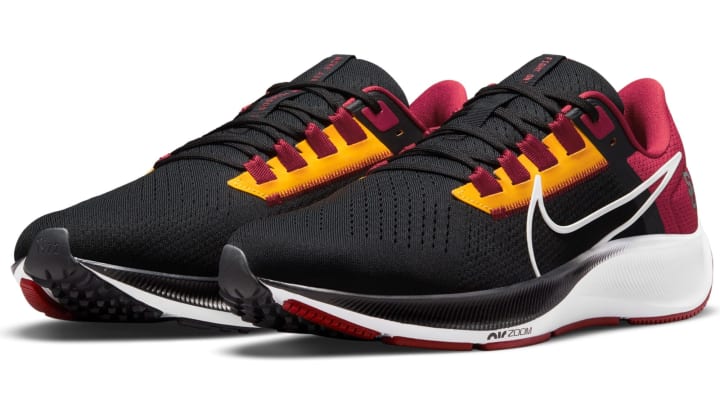 Fanatics /
The USC Trojans' season is just beginning, but the best look of the season has already dropped.
For USC Trojans fans, there's no shortage of official Nike gear. Jerseys, hats, t-shirts, socks... you name it and it's out there. But for our money, the coolest item drops every year towards the end of summer. New Nike Air Zoom Pegasus running shoes.
This year is no different, with the drop of official USC Trojans Nike Air Zoom Pegasus 38 NCAA sneakers.
Last year, of course, saw the release of the Air Zoom Pegasus 37 sneakers. Those were great. Incredibly comfortable and durable, plus stylish and sleek. (Please note I did not own a college colorway, nor was the pair provided by Nike).
The major difference you'll notice is the colorway. Last year, Nike opted to go white, with team color accents. Those looked great for sure, but we all know how hard it is to keep white sneakers looking fresh.
This year, the Pegasus 38 is in full on team color. So each pair is vibrant - and everyone will know who you're rooting for when they see you coming.
I've been rocking Air Zoom Pegasus shoes for years now. They're my favorite style from Nike and adding your school's official logos and colors just makes it all the better.
Fanatics
Fanatics
Fanatics
Fanatics
This year, some things have changed - but the end results are the same: an amazingly comfy shoe.
The mesh along the upper part of the shoe makes it breathable (therefore keeping your foot cooler). The entirety of the shoe is likely going to be under one pound for most of you (unless you've got size 15 or larger feet). In terms of look and style... I mean... just look at them!
These will not only be the perfect addition to your collection, but the perfect look for the rest of the year - and well into next. They're definitely going to attract attention.
Please note: On Fanatics, the shoes are listed as unisex sizes. The same was true last year, but it is still a relatively new development. Previously, Nike had released both men's and women's versions of the shoes.
This post contains affiliate links, where we may receive a percentage of any sale made from the links on this page. Prices and availability accurate as of the time of publication.