USC FOOTBALL NEWS
USC football wide receivers light up NFL Wildcard Weekend
Jan 10, 2021, 6:00 AM PST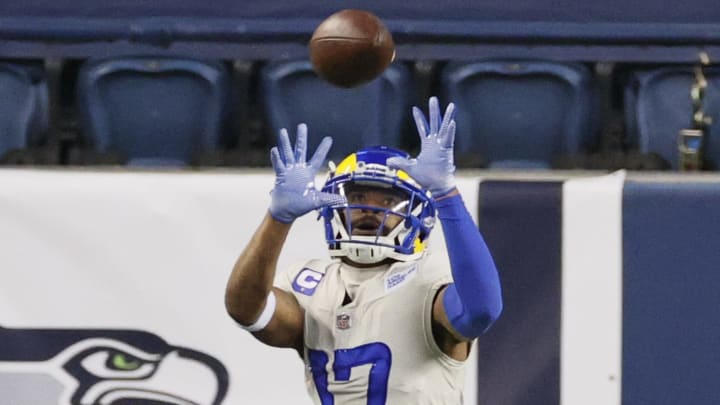 Former USC football players were on both the winning and losing side of Saturday's NFL wildcard matchups. Let's be honest, Michael Pittman and Robert Woods were both stars.
Woods and the Rams took it to the Seahawks to advance to the next round of the playoffs. Pittman and the Colts weren't so fortunate. Still, they each had their moments to make a mark.
Pittman started the day off well for Trojan fans watching NFL action. He led the Colts with five catches for 90 yards, including a couple of excellent highlight moments. An 11-yard carry put him over the 100-yard mark.
Unfortunately, Pittman's efforts weren't enough to complete the upset over the Bills. Buffalo will move on after a 27-24 win.
That playoff appearance was more than enough to suggest great things are on the horizon for Pittman, who is already using the loss as motivation.
"I'm going to go back and train like I never have. I'm gonna star pretty soon," he said.
It was also a day of playoff firsts for Robert Woods
The Rams wildcard game against the Seahawks was never going to be one for the passing offense. LA started back up John Wolford but had to throw in Jared Goff coming off a broken finger anyway when Wolford was knocked out with an injury.
None of that stopped Woods from having a say in the Rams 30-20 victory.
Woods had four catches for 48 yards, including a perfectly-executed play action for the most wide-open touchdown of his career, probably.
It was also the first playoff touchdown for the eight-year veteran.
Before that, Woods completed this beautiful toe-dragging effort on the sideline.
Woods also recovered an onside kick for the Rams as they locked up the victory.
It should be fun to see what kind of heroics can Woods conjure as LA faces a TBD opponent in the divisional round of the playoffs.
First, Trojan fans can see what Adoree' Jackson gets up to with the Titans against the Ravens before tuning in as JuJu Smith-Schuster and the Steelers take on Porter Gustin, Malcolm Smith and the Browns.