USC football schedule: Observations on the official 2021 slate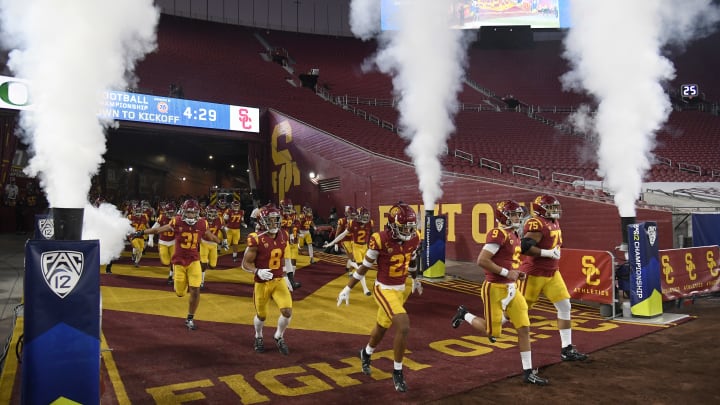 USC football at the LA Memorial Coliseum. / Harry How/Getty Images
The 2021 USC football schedule is officially here.
The Trojans will look to make it through their 12-game slate a Pac-12 title game appearance waiting at the end. Even better, a College Football Playoff bid could emerge.
It all depends on how the team responds to last season's promise and disappointment.
Dates for the San Jose State game on Sept. 5. the Notre Dame game on Oct.23 and the BYU game on Nov. 27 were already established. Tuesday's announcement from the Pac-12 means the order of the conference slate is mapped out.
2021 USC Football Schedule:
Sept. 4 vs. San Jose State
Sept. 11 vs. Stanford
Sept. 18 at Washington State
Sept. 25 vs. Oregon State
Oct. 2 at Colorado
Oct. 9 vs. Utah
Oct. 16 BYE
Oct. 23 at Notre Dame
Oct 30 vs. Arizona
Nov. 6 at Arizona State
Nov. 13 at California
Nov. 20 vs. UCLA
Nov. 27 vs. BYU
The biggest news from the schedule release is that the Trojans will have a bye week ahead of the road trip to Notre Dame. That's a big advantage that usually doesn't get built-in. The Pac-12 did USC a solid there.
The Trojans have no weekday games, which is also something big to note. While there may be late or early kickoffs in there, the dreaded Thursday or Friday dance will not be factor.
Back-to-back road games against ASU and Cal may be the toughest ask on the schedule. The Sun Devils will be a Pac-12 South contender while the weekender to Berkeley should be a challenge.
The annual rivalry game with UCLA won't end the season. That weekend is reserved for a major out of conference tilt with BYU.
As for the start of the season, it should be manageable, but not easy. There is a nice balance to Stanford, Washington State, Oregon State, Colorado and Utah as alternating home and road games before the bye week.