USC vs. Alabama: Looking Back at the History of the Series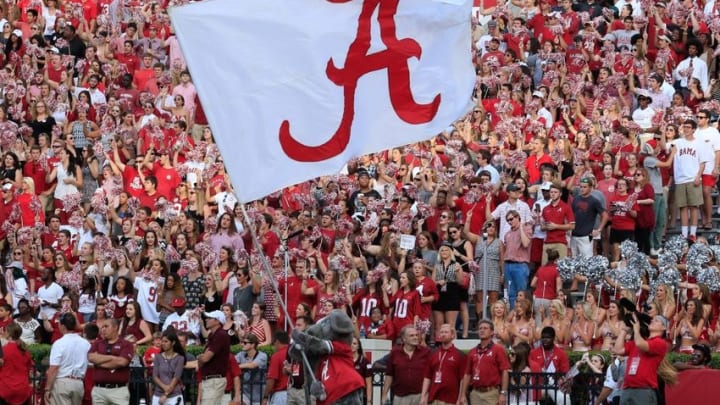 Sep 26, 2015; Tuscaloosa, AL, USA; Alabama Crimson Tide mascot Big Al waves the flag after a score at Bryant-Denny Stadium against the UL Monroe Warhawks. The Tide defeated the Warhawks 34-0. Mandatory Credit: Marvin Gentry-USA TODAY Sports /
USC vs. Alabama will face off in 2016 for the first time in over 30 years. Still the history of the series goes back a long way and features its share of title winners.
In sports there are iconic rivalries like New York vs. Boston in baseball, Lakers vs. Celtics in the basketball, Warriors vs Cavaliers in today's NBA.
College football has some of the best traditional match-ups year after year, decade after decade.  Depending on your geographic location you have Iron Bowls, crosstown extravaganzas and other games where you can not speak the opponents name like Michigan vs. Ohio State.
This September college football features a revived rivalry of two different shade of red: Crimson and Cardinal. Alabama vs USC.
So what's the recent history in this clash of college football titans?
These two college football programs have produced some impressive numbers.  Alabama claims 16 national titles which is first in the land while USC claims 11 titles, which is tied for second.  USC has
seven
six Heisman winners for second in the country and Alabama has had two winners for fifth.
Players in the NFL?  USC has had 488 players drafted in the NFL with 79 first round picks both putting the Trojans first on the list, while Alabama has 336 NFL picks and 52 first round picks for fifth place.
SEE ALSO: 50 Best Draft Picks In USC History
The Trojans have also put 12 former players into the NFL Hall of Fame while Alabama is represented by eight former players.
These two schools have the players that not only win in college but play football on Sundays. This year is no different as both teams are well-stocked with future NFL players.
While USC and Alabama are two of the more successful programs in college football history, it's been decades since they've met on the football field.
To find the first modern era match up between the Tide and the Trojans you must begin on September 12, 1970 in Birmingham, Al.
USC and Alabama had met twice before: In 1938 at the Coliseum and in 1946 for the Rose Bowl, both of which were Alabama victories.
The most competitive portion of the series took place in the 70s and 80s.
You might have seen the Showtime documentary  "Against the Tide" discussing this classic game and all its ramifications.
Alabama head coach Bear Bryant and USC head coach John McKay were friends so they made the game happen in 1970. That must have been nice to have two football gods just decide to play a home-and-home series.
On that day, the Trojans rolled to a 42-21 win. Their first over the Tide.
USC had an integrated football team, Alabama didn't. The Trojans also had African-American fullback Sam "Bam" Cunningham who scored two touchdowns and ran over defenders in impressive style.
Southern California finished the year ranked No. 15 and ten Trojan players were selected in that year's NFL draft.
The next year at the Coliseum, Alabama was victorious,17-10.
That Alabama team was now integrated and also featured a new offense coined the wishbone.
After the upset on the West Coast, the Tide rolled though the SEC and defeated Auburn 31-7 in the Iron Bowl.
CHECK OUT: Former Alabama Star Says Tide Will "Steamroll USC"
The Tide's season ended in the Orange Bowl with a 38-6 loss to the national champion Nebraska Cornhuskers.
The two schools didn't play each other again for six seasons. During that six-year period, the two schools combined for three more national championships.
USC was a consensus national champion in 1972 and finished that year 12-0 with a 42-17 Rose Bowl win over Ohio State.  A Southern California receiver named Lynn Swann scored a touchdown in this blowout.  It was also McKay's 100th win in his illustrious career.
Alabama claimed yet another coaches championship in 1973 and the Trojans also claimed another coaches championship in 1974.
Moving deeper into the decade with the series leaning 3-1 in favor of Alabama, 1977 was the perfect time for another home-and-home series with national championships on the line.
These were the days of split national championships in college football. The two most recognized championships were awarded by the coaches poll and the Associated Press. Even after a year of football including bowl games these two polls did not always agree. Thus one team could win a title from the coaches poll while another team could win an AP title in the same year. So it was.
USC hosted the next game in the Coliseum on October 8, 1977.  Alabama arrived in Los Angeles ranked No. 7 in the country while the Trojans were ranked No. 1.
It was Bryant's 20th season at the helm of Alabama football. The Tide had earlier lost a big nationally-televised game to Nebraska 31-24 and were looking for the upset to right their season.
Alabama beat USC 21-20 on the day and went on to finish with a 11-1 record. After completing a 35-6 Sugar Bowl win over Ohio State they were ranked No. 2 in the polls.
The 1978 rematch game did not disappoint as USC traveled to Birmingham for a convincing 24-14 road victory.
This was the third game of the season for both teams.  Southern Cal was truly loaded on both sides of the ball with legends such as Ronnie Lott, Charles White, Anthony Munoz and some kid named Marcus Allen.
RELATED: The 50 Greatest USC Players of the Last 50 Years
Head coach John Robinson claimed his first national championship that year according to the coaches poll while Alabama won the AP national championship with it's Sugar Bowl win over Penn State.
Both teams finished with one loss, going 11-1, and both teams won their bowl game but in the head-to-head matchup, USC was victorious, so you can decide who was the true champion that year.
The last game played between the two juggernauts was not part of a home-and-home series but rather the 1985 Aloha Bowl.
For once, neither of the two teams were competing for any national championship.
Alabama arrived in Honolulu with a 8-2-1 record while USC had a 6-5 record.
The Crimson Tide whipped the Trojans  24-3 and both teams must have enjoyed the beautiful Hawaiian weather.
From 1970 through 1985, the USC vs. Alabama series saw four good games, including a couple of epic ones, but ended with a lackluster Aloha Bowl.
Perhaps some Youtuber specializing in gematria could tell us how those games might predict the winner of the game on September 3rd, 2016.
Predictions aside, this year once again a defending national champion will take the field in this series with national title implications on the line.
USC did manage to win the Pac-12 South title last year and has been picked by some to win the division again this year.
RELATED: Ranking USC's 2016 Opponents By Threat Level
If there's one Pac-12 team that is similar to Alabama it would be Stanford, with a physical, big offensive line and athletic players who can run the ball all day long.
If you can beat a very good Stanford team you might be able to beat Alabama. Unfortunately, the Trojans have not been very successful at beating Stanford the last two years as they're is 2-3 in the last five tries.
More from Reign of Troy
There isn't a home field advantage since the game is being played at AT&T Stadium in Texas. Both teams have previously won in the other's home stadium anyway.
The professionals in Las Vegas had the Tide favored by double digits to start with. Now the line has shrunk to Alabama by nine although most recently CBS reported Nick Saban's squad winning by just a field goal.
Regardless, this game is already a huge success for college football for the excitement levels it inspired since the day it was announced.
Fans from both schools can only wish this game lives up to its past pedigree with another national championship awarded to the victor.