USC ALUMNI NEWS
USC football's winners and losers from NFL Week 1
Sep 15, 2020, 4:13 AM PDT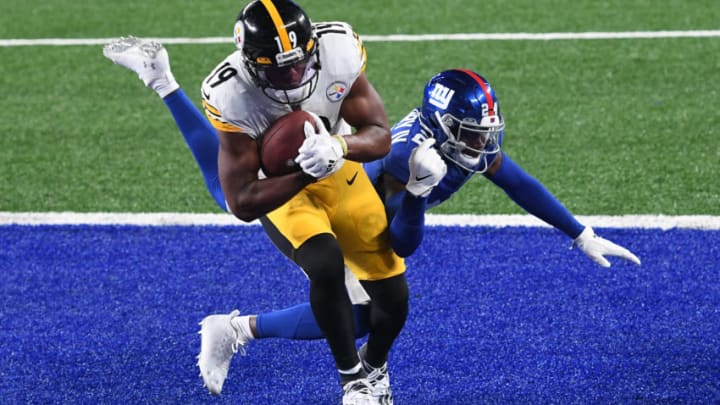 USC football's former wide receivers got the last laugh in Week 1 of NFL action.
USC football fans finally got to see some Trojans in action this weekend.
Sure, they were Trojan alums in the NFL, but it was still something.
If you didn't catch all the touchdowns, sacks, tackles and blocks from Week 1, we've got you covered with winners and losers from a USC perspective.
Winners for USC football in the NFL in Week 1:
JuJu Smith-Schuster
No one enjoyed having Ben Roethlisberger back at quarterback for the Pittsburgh Steelers more than JuJu Smith-Schuster.
On Monday Night Football, the former Trojan receiver bounced back from a difficult 2019 campaign by leading the Steelers with six catches for 69 yards and two touchdowns. The statline was nice. So were the touchdown celebrations.
Robert Woods
Robert Woods was named a Rams team captain ahead of the season opener against the Cowboys and he played like it.
Jared Goff found Woods six times, the most of any LA receiver. The former Trojan topped 100 receiving yards for the 13th time in his career.
Nelson Agholor
Do a quick Twitter search and you'll realize Philadelphia Eagles fans really don't like Nelson Agholor. His time in the City of Brotherly Love wasn't exactly love-filled even though the receiver had 84 receiving yards in the Eagles' Super Bowl LII victory.
Agholor signed with the Raiders and got off to a nice start with his new team, catching a touchdown pass in Week 1.
It was Agholor's only catch of the game, but it still put him ahead of all Philadelphia's receivers. Eagles fans sure noticed.
It's nice to see Agholor getting the last laugh.