USC FOOTBALL NEWS
USC football: Pac-12 reportedly considering conference-only, spring schedule
Jun 30, 2020, 10:00 PM PDT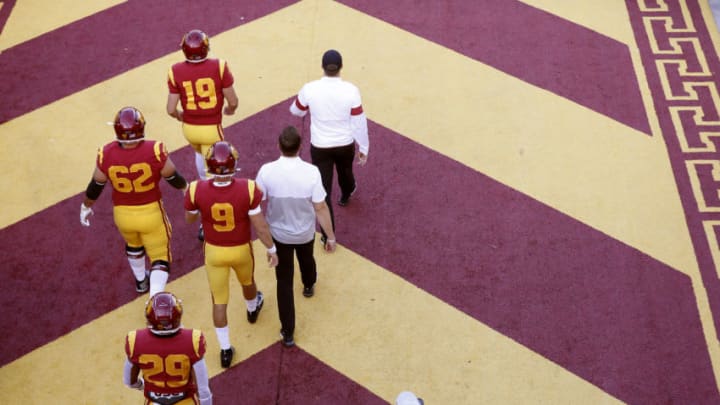 USC football's 2020 schedule could be played in the spring, according to a report.
Will the 2020 USC football season begin on time? Will it happen this fall at all?
A new report from Tracy Pierson of Bruin Report Online suggests the Pac-12 is preparing for the worst.
According to Pierson, the possibility of an altered 2020 season is "getting more traction" with the conference "seriously" considering a conference-only schedule as well as a spring restart.
USC football is facing the possibility of an altered 2020 campaign
"Sources are indicating that, a month ago, when the curve of positive tests was flattening, the conference and university representatives were far more optimistic that the season would begin on time and with a non-conference season," Pierson wrote. "The recent upswing in positive COVID-19 tests, including the numbers reported by athletic departments across the country as student-athletes return to campus, has made the Pac-12 conference and its universities more seriously consider alternatives."
CHECK OUT: Ranking USC's Top 5 offensive linemen since 2000
Pierson's sources said there isn't a deadline to decide on whether the season will go forward as planned.
It's not hard to see when the decision-making process would have to begin. Pac-12 coaches have said from the beginning they need at least six weeks to get their teams conditioned and ready to play. USC's slate is scheduled to begin on September 5. That means the Trojans would need to begin their preseason preparations by the week of July 26.
On the plus side, there are still four weeks to successfully bring Trojan players back to campus with a thorough COVID-19 testing program and stringent health and safety protocols in place. If USC can make it through without a significant outbreak among the student-athlete population it would bode well for the possibility of playing football games.
SEE MORE: USC releases plan for return to campus
Unfortunately, USC isn't the only entity involved in the decision-making process. All 12 member schools will need to navigate the return of student-athletes to campus without any major hiccups in order to proceed.
Recent spikes in coronavirus numbers in Arizona, California and Los Angeles specifically could throw a wrench in plans. With California governor Gavin Newson pondering the return of tightened restrictions until the numbers decline, it's impossible to know what the future will hold, for sports or life in general.
Pierson's report floated the possibility of a 10-game slate, with two non-conference games dropped but one allowed. That would allow USC to cancel the Alabama and New Mexico games while preserving the Notre Dame rivalry game. It would certainly be disappointing to lose the chance to test the team's mettle against a national power like Alabama, but being able to continue the long-running series with the Irish is far more important.
MORE: Top 10 plays of Reggie Bush's USC career
Another scenario involves an 11-game conference-only schedule which would involve dropping the three non-conference games while adding Washington State and Oregon State to the schedule. Such a plan would mean no USC vs. Notre Dame matchup for the first time since 1945.
Whether or not those scenarios play out in the spring will depend on a complex set of factors. However, a spring season would likely allow for far less risk to student-athletes who will be unable to socially distance on the football field. It would also create the potential for playing games in front of full stadiums, assuming a vaccine or reliable treatment for COVID-19 is developed over the next few months.