USC FOOTBALL NEWS
USC football could benefit from games played in empty stadiums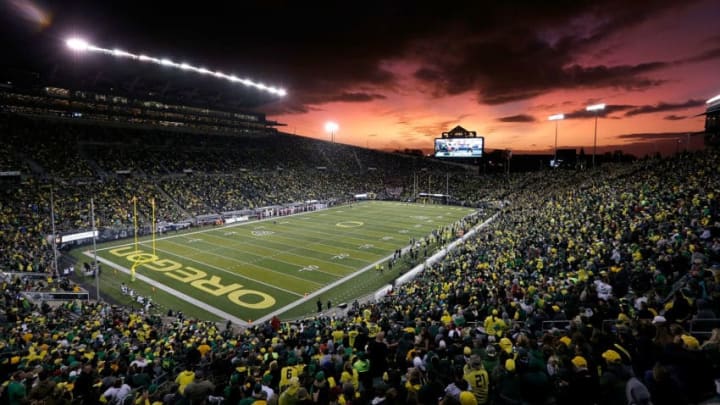 EUGENE, OR - OCTOBER 07: A general view of the stadium during the game between the Washington State Cougars and the Oregon Ducks at Autzen Stadium on October 7, 2017 in Eugene, Oregon. (Photo by Jonathan Ferrey/Getty Images)
With the prospect of playing games in empty stadiums growing, USC football could actually benefit in 2020.
The 2020 USC football season is still a long way off, but recent developments in the Pac-12 footprint suggest the Trojans will end up playing at least some of the season without fans in the stands.
On Thursday, the governor of Oregon, Kate Brown, confirmed that the state will not allow any live sporting events with audiences to be conducted in the state at least through the end of September.
For Oregon, that means playing Ohio State at Autzen without their disruptive atmosphere. It's an undeniable game-changer.
CHECK OUT: USC players, coaches celebrate poaching LSU's video team
But what if that restriction stretches beyond September?
Brown indicated that large gatherings will not be allowed until "we have a reliable treatment or prevention like a vaccine."
Experts continue to signal that a widely-available vaccine isn't likely to be developed until 2021. As for treatments, it's impossible to say at this stage when those will be termed reliable.
If neither of those things is available by October, then Oregon (and other states) will have to continue restricting large gatherings. Say the mandate continues through November?
USC is slated to travel to play Oregon at Autzen Stadium on Nov. 7. Coronavirus restrictions could impact that contest greatly.
After all, the fear of playing Oregon at Autzen is as much tied to the noise generated in the stadium as the strength of the Ducks' roster.
Simply put, the Trojans are far more likely to beat Oregon without a home crowd spurring them on.
This doesn't just extend to the matchup between USC and Oregon either.
USC's 2020 schedule softens significantly if you assume the Trojans will be playing in front of empty seats.
The Oct. 2 date with Utah at Rice-Eccles, a Friday night no less, appears a much-diminished hurdle without the roar of 45,000 rabid Utes ringing in Kedon Slovis' ears.
Setting aside the Alabama season-opener (which is very much in doubt at this stage), the trips to Salt Lake City and Eugene represent two of USC's most difficult games of the season.
Whether or not the Trojans would actually win those contests in any circumstance is up in the air. But a more leveled playing field is a silver lining to be taken from this whole scenario.