USC football Spring Camp notes: Quarterbacks decisive in new offense (3/9)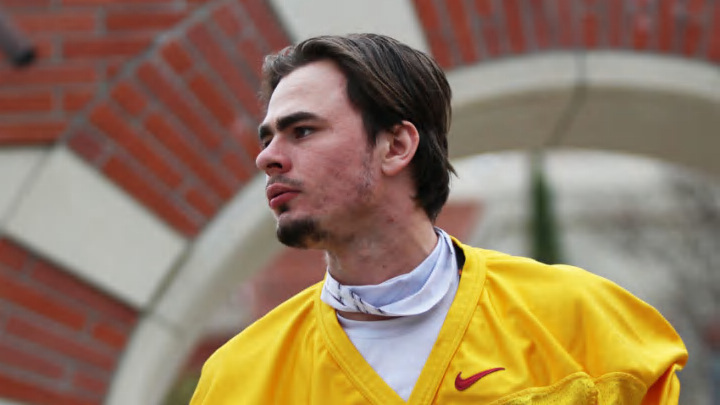 Alicia de Artola/Reign of Troy /
Alicia de Artola/Reign of Troy /
The new Air Raid offense has allowed USC football's quarterbacks to play quicker and more decisive, Clay Helton said after the Trojans third day of Spring Camp.
USC football completed their third day of Spring Camp practice on Saturday, wrapping up the first phase of installing a new offensive system.
How has it gone so far for the Trojans?
"It doesn't feel like putting in a new system right now," head coach Clay Helton said after practice. "Guys are really ahead on both sides of the ball."
If things are ahead of schedule, then they're definitely going to plan. Helton said one of his big hopes for simplifying USC's schemes was to have his team playing faster, without hesitation or indecision.
That has come to pass, particularly at quarterback where the Trojans have gotten solid camp outings not only from established names like JT Daniels, Jack Sears and Matt Fink, but also early enrollee Kedon Slovis.
CHECK OUT: Helton's priorities include simplicity, competition and more
"I'm seeing no confusion whatsoever by all the quarterbacks right now," Helton said, highlighting the accuracy and decisiveness of his passers.
The three older quarterbacks have each avoided throwing interceptions at this stage, while Slovis has put just one ball in the hands of the defense.
"You have that many throws in the air and only one interception on the week, that's good for one side," Helton said.
Of course, "you want more" from the other side, Helton said.
DAY 2 CAMP NOTES: Greg Johnson returns to practice
That may be a tough ask for the Trojan defense, which operated on Saturday with a bare-bones crew.
Isaac Taylor-Stuart was the lone healthy scholarship cornerback. Chase Williams and Raymond Scott were available at nickelback. And that's it. The rest of USC's secondary either wore gold non-contact jerseys—like Talanoa Hufanga, Isaiah Pola-Mao and Greg Johnson—or were unable to practice—like Briton Allen, Dominic Davis, Olaijah Griffin and C.J. Pollard.
That means USC's quarterbacks and wide receivers were going up against walk-ons for much of the day, adding an asterisk to some of the more impressive completions.