USC Spring Game 2018 will be practice at Loker Stadium on campus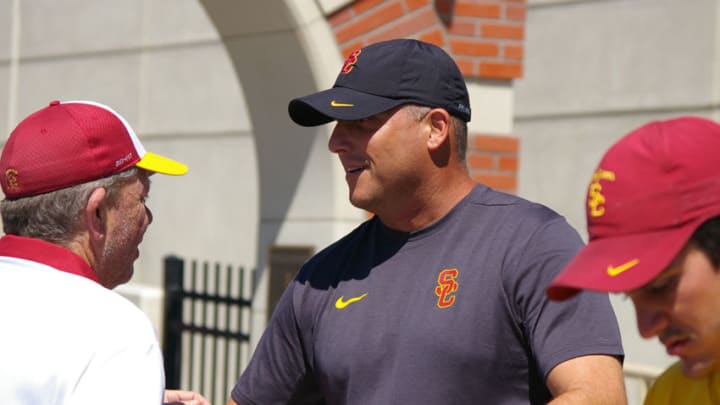 Alicia de Artola/Reign of Troy /
The 2018 USC Spring Game will be played at Loker Stadium due to ongoing construction at the LA Coliseum, but fans should be prepared for a practice-like atmosphere.
USC's Spring Game in 2018 was already expected to be quite a bit different than normal. With construction ongoing at the Coliseum this offseason, a venue change was necessary.
That venue will be Locker Stadium on USC's campus, but that's not the only Spring Game development announced by the Trojans on Wednesday. It won't actually be a "Spring Game."
On the one hand, that's not all that new. USC's Spring Game hasn't been a true contest in years. For a variety of reasons, including depth and injury concerns, the Trojans have hosted a glorified scrimmage at the Coliseum to close Spring Camp.
This year, they've taken away the Spring Game pretense. The event at Loker Stadium will simply be a practice, with "scrimmage emphasis," like all other Saturday practices during the course of camp.
More from Reign of Troy
That's not to say fans don't have reason to attend the Spring Game or any other USC practice, all of which are open to the public. It's an opportunity to see the Trojans up-close in their offseason preparation, including new spring enrollees. It's also a chance to appreciate beautiful Los Angeles weather for a couple of hours. And a quarterback battle between Matt Fink and Jack Sears should offer some intrigue.
The final practice in particular will offer different viewing angles from the stands of Locker Stadium, with normal practices at field level on Howard Jones Field.
Practices will be held on Tuesdays and Thursdays at 3:15 p.m. and Saturday's at 10:00 a.m. on Howard Jones Field beginning on March 6. The Trojans will take a week off for Spring Break the week of March 11.